She Who Makes Her Meaning Clear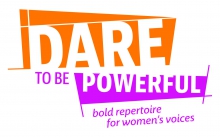 Poet/Lyricist:
quote by Audre Lorde (1934-1992)
— from the DARE TO BE POWERFUL choral series —
Part invocation, part call to action, part celebration, this setting of a quote by Audre Lorde was commissioned by MUSE: Cincinnati's Women's Choir to commemorate the choir's 25th anniversary season. Toward the end of her life, Lorde took the name "Gamba Adisa," in an African naming ceremony; it means "Warrior: She who makes her meaning clear. " Divisi up to six parts and low A2 range are considerations. For the accomplished women's chorus.
Reviews:
Performed by the 2013 ACDA National Women's Honor Choir, Sigrid Johnson, conductor