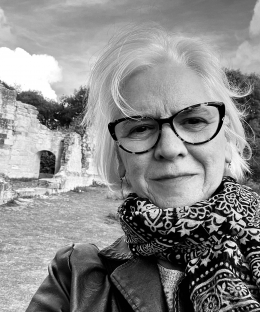 Joan Szymko is widely regarded as an outstanding composer of choral music in America today. With a catalog of over 100 choral works in print, her music is sung regularly at choral festivals and competitions across North America and abroad and has been heard on stage or in sessions at every National Conference of the American Choral Director's Association since 2003. The ACDA recognized Szymko's lasting impact on the choral arts in North America by selecting her as a recipient of the prestigious Raymond W. Brock Memorial Commission in 2010. Szymko has composed for professional, church, LGBTQ, children's and all manner of academic and community choirs. The 2016 commissioned oratorio, Shadow and Light, a major new addition to the repertoire for chorus and orchestra, shines a compassionate light on the suffering of those journeying through life with Alzheimer's dementia.
In addition to the works published on this site, Joan Szymko's choral music is found in the catalogs of Santa Barbara Music Publishing, Roger Dean Publishing, Oxford University Press, Walton Music, earthsongs, and Treble Clef Press.
"My goal is to compose music that invites the audience in while challenging the notion that accessibility and musical integrity are incompatible concepts. I have composed choral music to be performed with actors, poets, Taiko drummers, modern dancers, aerialists and accordion players. I have set texts by fourth graders and Pulitzer Prize winners, medieval mystics and contemporary poets. I am drawn to texts that invoke divine grace, speak to the universal yearning for good and that nurture a compassionate heart."