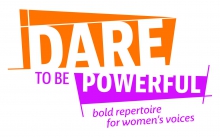 Poet/Lyricist:
Music and lyrics by Naomi Littlebear Morena, arr. Szymko
— from the DARE TO BE POWERFUL choral series —
"You can't kill the spirit, it's like a mountain / old and strong, it goes on and on." This original song by Naomi Morena was written when she was just 19 years old, and has the power and feel of a tried and true folk song. It has been sung all around the world, most notably as the adopted theme song of the women at the Greenham Common peace camp in Berkshere England in the 1980's. On 12 December 1982, 30,000 women held hands around the 6 mile perimeter of the military base there, in protest against the decision to site American nuclear cruise missiles there.
Give your women's choir an anthem to proclaim the persistence and power of a woman's spirit!