Beauty of Your Dreams, The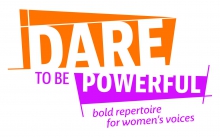 Poet/Lyricist:
Eleanor Roosevelt (1884-1962)
— from the DARE TO BE POWERFUL choral series —
Adapted by the composer from inspiring quotes and excerpts of writings by Eleanor Roosevelt, "The Beauty of Your Dreams" is an ode to personal courage. Beginning in reverent tones, ER's personal prayer as First Lady then flows into powerful,confident melodic strides. The angular upward melodic treatment of the words, "you must do the thing you think you cannot do" serves as a ritornello that holds the rather large arc of the composition together. Commissioned by the Indianapolis Women's Chorus(2003) this work is a showcase for women's chorus.
Reviews:
Selected for the 2011 ACDA National Conference Womens Choir Reading Session